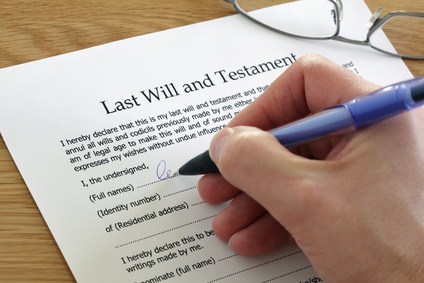 It's something that we don't particularly like to think about too much in our day to day lives but making a will and being informed about how the legal process works is very reassuring. There are many myths out there and here are some common misconceptions that we come across.
But I don't need a will
Everything will be passed on to my partner automatically by 
law
This isn't always the case, people who pass away without a will are found 'intestate'.
There is a formula applied by Queensland law which determines how assets are divided in the absence of a will.
Depending on circumstances at the time, a deceased person's estate could go to family members or otherwise, including:
Their children

Their partner/ spouse

Their grandchildren

Their siblings

Their parents

Their grandparents

Their cousins

Their nieces/ nephews 

Their uncle/aunts
Whilst no lawyer can stop someone contesting your Will, the most reliable way to ensure that your estate is dealt with as you would wish is to make a valid legal will.
If you would like some advice on preparing your will, Cairns Wills and Estate Lawyers can help.
I don't have assets, so there's no need for a will
When a person passes away in Queensland, his or her estate must be administered properly by law.
You may think that your estate amounts to little or nothing, but whatever it's value, you want to be confident that it goes to your chosen recipients. A valid will makes sure that this happens.
Very often the estate is worth more than estimated - for example, superannuation funds may include life insurance which can have a high value. This could be paid into a person's estate, once deceased and then has to be distributed.
I don't need to worry about it, I won't be here!
Even though this is true, most people do not want to cause unnecessary stress and upset for their family. Making a will minimises this and also saves on potential extra, legal costs. It takes a relatively short time to prepare a will. 
I already have a will
I made my will ages ago, so I don't need to worry about it
Even if you have already made a will, there are certain events in your life and family situation that can affect the legal validity of a will
These include:
Getting married

Entering a de facto relationship

Divorce or separation

Birth of children (or grandchildren, if you want them to be beneficiary)

Incapacity or death of a beneficiary, trustee or executor of a will

Entering retirement

Change of financial circumstances
It is advisable to review a will with your lawyers often so that it can be updated with relevant modifications. This will ensure a valid will that is true to your current wishes.
Cairns Wills and Estate Lawyers can help you review your will.
I can draft a will myself - it should be simple
I have seen will kits online or I'll write a note with instructions
These might seem like easy, no fuss options but if a will is not correctly witnessed, it will cause problems for those left behind and may even need to go to court to be sorted out. This could incur extra costs and stress and delays for your loved ones.
If you need some advice about any aspect of making or updating a will, Cairns Wills and Estate Lawyers can help.
Cairns Wills and Estate Lawyers are part of  Preston Law, a locally owned and operated firm.
Call us today to arrange a consultation